In South Florida backyards are resort-style, so you can lounge like you're in a living room, cook like you're in the kitchen, and play like you are at your favorite club.
Today's luxury accessory makers are producing a variety of innovative outdoor televisions. Movie night, the big game, or a must-watch TV show can now be enjoyed while everyone gathers in the backyard.
The most important features of your outdoor unit will be different than an indoor one. Use these guidelines as you shop.
What to look for in an outdoor TV
Consider these questions as you evaluate your options:
Do the weatherproof housings endure in extremely hot (and cold) temperatures?
Does it include a high IP (ingress protection) rating for water and dust resistance?
Does it have a bright display panel with anti-reflective coating--two must-haves for outdoor viewing?
What are the available connectivity features and sound qualities?
What weatherproof compartments are included to house the accessories like the media player or soundbar?
Location matters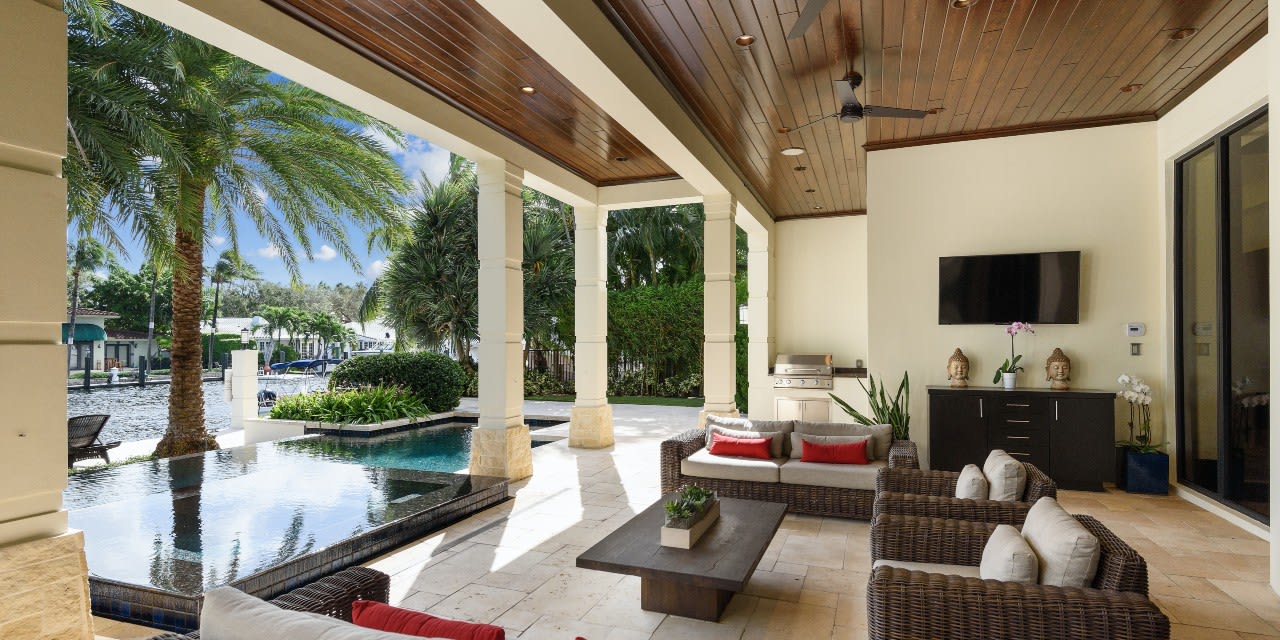 Do you already have the perfect spot in mind for your outdoor TV?
Make sure the model you select is compatible with the location's surroundings. Additional considerations include:
How much space is available?
Will the TV need a wall mount?
If there is ambient noise in the area, will you need a separate sound system?
Where can it safely plugin?
Will the TV be exposed to full sunlight or will it be covered by an awning or under a patio? This impacts the need for anti-glare protection.
Is it a waterproof unit?

The best of the best
According to the experts, some of the best models out there are:
Samsung's The Terrace: Stunning 4K QLED display and anti-reflective coating providing optimal viewing even in direct sunlight. It has WiFi and Bluetooth connectivity, and you can control settings with Amazon's Alexa or Google Assistant. It also includes an IP55 rating for its water and dust resistance.

Furrion makes two versions to meet your needs, depending on where the TV will be placed.
Similarly, SunBriteTV offers three versions that work depending on outdoor placement.

If luxurious outdoor space is your priority, we represent incredible Fort Lauderdale estates, in what's known as "The Venice of America."
Contact us today for a selection customized to meet your needs.